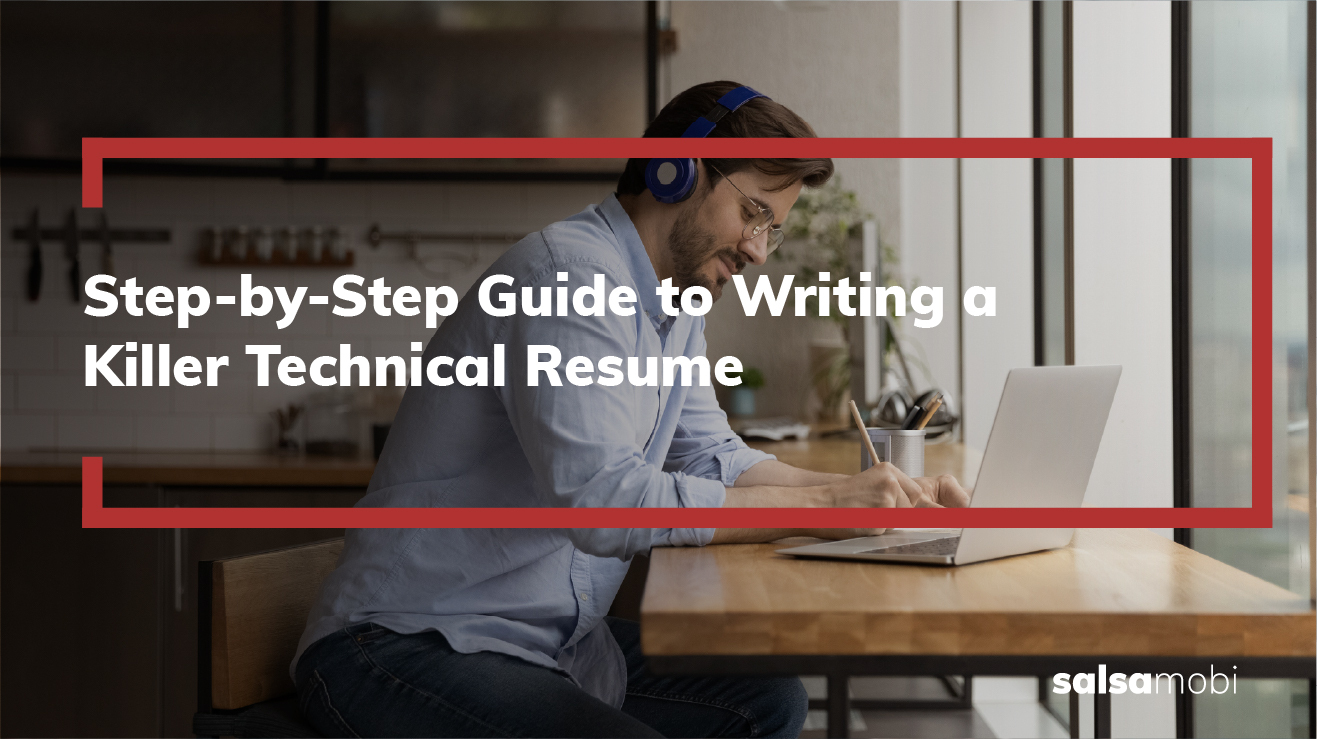 Applying for a new job or gig in the tech industry?
Are you approaching the end of a contract project, getting ahead of company layoffs, or chafing at your current work situation?
Do you dislike—or even dread—creating or updating a resume? So many of us do. Or perhaps you're just looking for current best practices in resume writing. Either way, the profile writers at SalsaMobi have put together some tips to make it easier for you to create a killer resume, get noticed, and get hired!
Your Resume: It's not about you.
OK, yes, of course your resume is about you. BUT everything you include on a resume should be a response to the needs of the person, team, or company looking for a new hire.
For example, if you are applying for the position "full-stack developer" and your resume doesn't use that phrase but mentions a current position involving "front-end work" and "back-end development," you might assume that the person—or automated filter—reviewing your resume will put 2 + 2 together and assume you are qualified to work as a full-stack. But you're a lot more likely to be seen as a match—and make it through filters—if you use the same terminology as in the posting.



Step-by Step Guide: Let's get started.
So let's get to the nitty-gritty. Here's a step-by-step process for creating a resume.
Start with a header.
At the top of your resume, include your name, title, and contact information. (The title should match the job you are qualified for and seeking.) Include any links to professional websites, portfolios, or profiles. (Psst: Do those sites/profiles need to be updated? Better check.)
Example Header
Sergio Incandenza, Senior iOS Engineer
1234 Main Street, Anytown, State, Postal Code, Country
myemail@domain.com, 888-555-1212
www.incandenza.com
In the US, it is illegal for employers to consider your age or marital/family status in hiring decisions, so including that information on resumes sent to US employers is unnecessary and may raise eyebrows.
Next: Create your professional summary.
Launch your resume with a description of yourself and your credentials.

This is the field you will most often customize for positions. Describe yourself and your accomplishments, including specific details.
Example Summary
Accomplished senior iOS engineer with more than six years of experience using Swift and Objective-C to develop mobile applications, including games, e-commerce sites, and delivery-tracking services. Two years as a tech lead for a team of six, collaborating with other teams and working directly with clients. Personable, effective, and quality-oriented.
If your accomplishments and credentials closely match a bulleted list of posted job requirements, you might instead use a matching bulleted list as your professional summary.
Alternate Example Summary
Posted Job Requirements:

Senior iOS Engineer

5+ years as a software engineer
Experience with Swift and Objective-C
Experience with North American software companies
Leadership skills

Your Professional Summary:

Accomplished Senior iOS Engineer

6+ years as a software engineer
Experience with Swift (4+ years) and Objective-C (2+ years)
Experience with North American clients, including Acme Software and Dev Inc.
Leadership skills: 2+ years as team lead
Do not include a personal objective. Almost all applicants want to work in a collaborative environment with opportunities for job growth and personal development—right? Saying so just takes up space.
Your Experience: Show your stuff.
Use this section to detail how your experience matches what the employer is looking for. Review posted job requirements and key job responsibilities for language you can use to accurately describe your past and current job responsibilities and achievements. You want your language to match the employer's as closely as possible.
List positions held.
For each employer, list your job title(s), employer (and, if relevant, the employer's upstream clients), and dates of employment. (Don't guess: HR may call former employers to verify your dates of employment. Also make sure your resume and LinkedIn profile agree on dates and positions.) Then provide 3–10 bullets succinctly stating your primary responsibilities and achievements. When possible, use specific numbers/measures to show how you helped the company, customers, and users. In the final bullet, list technologies and tools used.
Example Experience Entry
iOS Engineer, Acme Software for BigNameClient, June 2020–April 2022
Helped build an iOS application (BigName App) and shared libraries from scratch.

Led a team of 6 developers, using Scrum methods and best practices.

Implemented unit tests and test-driven development, decreasing software issues and time spent debugging.

Communicated effectively with clients, product owners, and other stakeholders.

Performed regular code reviews.

Delivered BigName App to the App Store, where it has a 4.8-star rating and 100,000+ downloads.

Used Swift, Cocoa Touch, React Native, Git.
We recommend starting each bullet with an action verb, as above. Use present tense for your current position and past tense for past ones.
Consider adding links to or URLs for any apps or products you mention.
Your Education: Include degrees, studies, and credentials.
In the tech world, a degree isn't always required, but list any educational attainments.
Include formal education.
List any post-secondary degrees earned, majors or areas of specialty, institutions, and dates (it is also OK to list only the dates of graduation/completion or to omit dates), and any outstanding achievements.
Don't forget other credentials! Include reasonably recent, unexpired licenses, credentials, certifications, and English-language coursework or test results.
Example Education Entries
Bachelor's Degree, cum laude, Computer Science, Acme University, September 2014–June 2018
Associate's Degree, College Name, September 2012–June 2014
Credential, Univity, Test-Driven Development in iOS, January 2020
Level Z2 (Advanced) English, Language School, May 2022
Skills: Make them easy to see.
In the margin or minor column, or at the end of the resume, include a list of the skills and tools that you are expert or proficient in and that are relevant to the position you're applying for. Remember: Doublecheck the job requirements and qualifications to be sure you're not accidentally leaving out a key skill.
Pro Tip: If the job posting lists skills in a certain order, list your matching skills in the same order.
Good Impressions: Include a cover letter or email.
If the application process includes the opportunity to include a cover letter or email, do so. Taking the trouble will set you apart from more casual applicants. In the email/letter, take a few paragraphs to point out how your experience and qualifications align with the posted job description or requirements.
Example Cover Email
To Acme Software:
I am writing in response to the opening for a Senior iOS Engineer. I believe that my experience and skills are an excellent match for this position.
Specifically, I have 6+ years of experience developing iOS applications. I have particular expertise in Swift, Cocoa Touch, and Objective-C. I also have several years of experience working on Agile teams, often for US-based clients.
I am qualified for a senior position, having served as a tech lead in my current position and as team lead in earlier positions.
My resume further details my qualifications. Please contact me if you feel I am a good fit for this position and would like to arrange an interview.
Best regards,
Sergio Incandenza, Senior iOS Engineer
1234 Main Street, Anytown, State, Postal Code, Country
myemail@domain.com, 888-555-1212
www.incandenza.com
If you are sending a cover letter rather than an email, put your contact information in a header rather than under the signature, and include the date under the header.
Remember: Details matter!

Spell Check and Proofread.
Run a spell check on your resume and cover letter, and correct any typos or other mistakes. Proofread for misused words or other problems a spell check won't catch.
If possible, have someone else with strong language skills proofread your resume and cover letter and make suggestions for corrections or improvements.
More Help: We've got you.
Got all that? We've put it all together for you in this downloadable sample resume, which you can use as a model to build your own resume.
Apply Now!
And now, are you ready to apply for your dream tech job? Check out salsamobi.com/careers and get started today! Our profile writers can use your resume or LinkedIn profile to create and polish a professional profile that can help you get noticed—and hired.