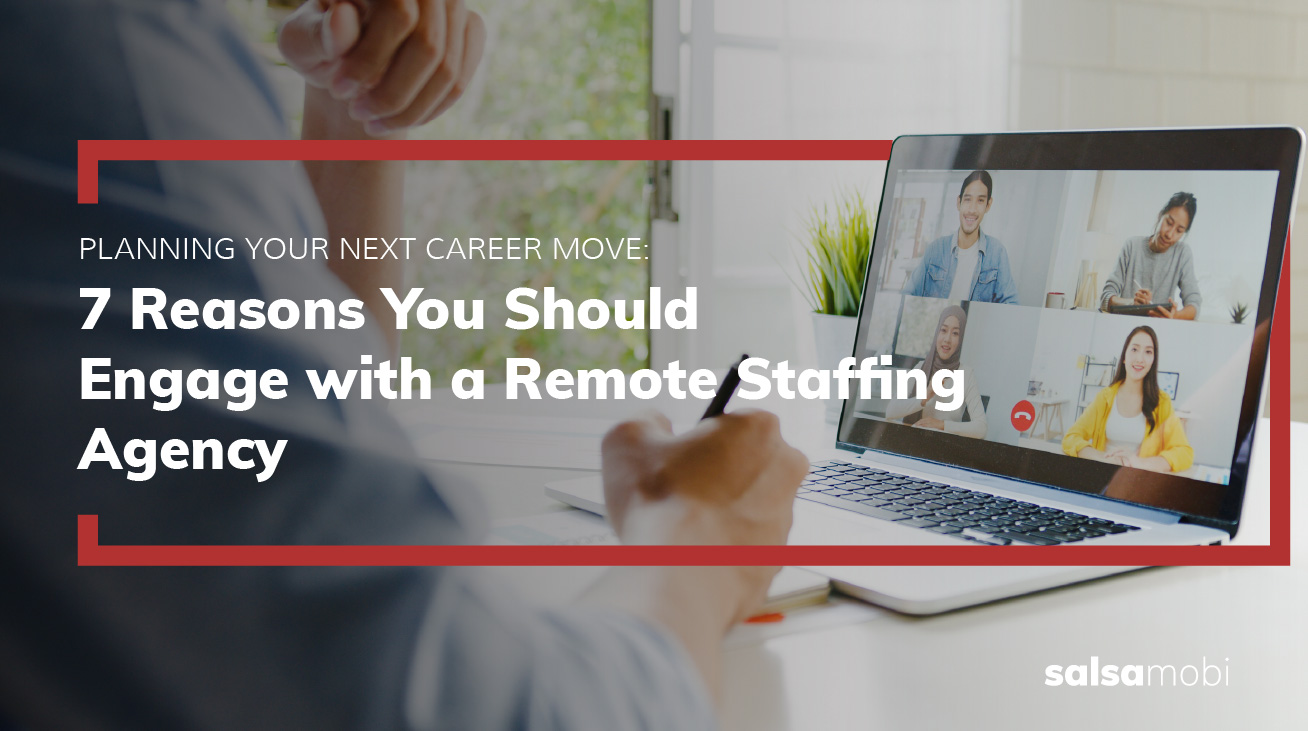 Most people will arrive at a time when they are seeking a job or looking to switch careers. At this point, the assistance of a remote staffing agency can be a valuable tool. They will help you attain the employment you need or want at that particular crossroads.
Remote staffing agencies focus on remote positions that offer flexibility so that the employee can work from anywhere. The recruiters can be for general employment, but most focus on specific career types such as law, finance, advertising, or engineers.
For example, SalsaMobi has dozens of excellent career options for talented, innovative software engineers who want to work remotely.
But some people are hesitant about using a staffing agency to find a job because of myths and misconceptions. After debunking the myths, many employment candidates find that enlisting an employment company is just the solution they need to find a well-suited remote position.

Busting the Most Common Staffing Agency Myths
A common misconception about staffing companies is that they are only for entry-level job seekers or temporary positions. Other rumors include the concern that all recruiters are alike and view potential employee candidates as job hoppers.
If that's what you've heard, perhaps you've been given the wrong impression about staffing agencies or just haven't encountered the right one. Here are a few myths and realities about employment agencies.
Top Myths About Staffing Agencies
Myth: Job seekers must pay staffing agents a fee or commission.
Truth: Candidates work with a staffing company for free. Clients pay the agency once an employee is selected and hired.
Myth: Staffing agencies only find job seekers temporary or entry-level positions.
Truth: While job seekers use companies like temp agencies for temporary or freelance work, a good staffing agency wants their candidates hired in solid positions for the long-haul. They find work for everyone, from entry-level staff to CEOs.
Myth: Going through a staffing company is time-consuming.
Truth: Searching for and applying to thousands of jobs you might not be right for is time-consuming. Staffing firm recruiters do the work for you.
Myth: Staffing agencies are all the same and treat candidates like job hoppers.
Truth: Quality staff agency recruiters want to find permanent positions that make both the employees and the clients happy for the long-term. Their reputation depends on providing the best candidates for their clients and is the source of compensation for their efforts.
Should I Use a Staffing Agency to Find a Job?
Yes. Looking for work can be hard to navigate and stressful, so it's easy to feel lost at sea if you're all alone in your search. A staffing agency recruiter is like a captain steering the ship of your job hunt through smooth waters until you reach your destination.

What Can a Remote Staffing Agency Do for Me?
Remote staffing agencies specialize in finding employment opportunities that are remote, either work-from-home positions or project-based work. The recruiter acts like a career coach who will offer tips and feedback to make you and your resume stand out to potential employers.
Think of a recruiter as a cross between a vocational trainer and your first screening interview. The personal instruction you'll receive comes from years of experience learning what companies want in a candidate, and recruiters are eager to provide them with the best person for the role.
Recruiters have access to many employers, even the ones who don't publicly announce they are hiring. Because they have established trust with the employers and HR departments, when they vouch for someone it's taken seriously.
Your staffing agency recruiter is a guide who will ensure that the job you land is right for you. And if it isn't the right fit, they will help you transition to a better-suited role with awareness of your skills and preferences.
That offers candidates more opportunities and flexibility, so they are less likely to feel stuck in a job they are unhappy with just to save them from periods of unemployment.
The best part of working with an employment recruiter is that you receive all of these benefits at no cost to you. Since working with a staffing firm is free, it's a no-risk, all-reward opportunity.

7 Reasons to Use a Remote Staffing Agency to Find a Job
Staffing agencies have more options, so you find the right company that suits your needs and career expectations.
Working with a recruiter can save you significant time and stress.
They offer free assistance, support, and feedback during your job search.
Staffing companies will only submit you to sincere companies who are looking to hire qualified staff members immediately.
Recruiters have the connections you need to find a position that's right for you and the employer. They know the right people and have built trusting relationships.
Employment firm representatives are highly motivated to get you placed, so they will do all they can to secure an interview with a potential employer as soon as possible.
Working with a specialized agency allows better placement in a position that matches your skills, experience, and career goals.
How Do I Get a Job Through a Staffing Agency?
When a candidate chooses the right remote staffing agency for their needs, they should connect with them directly through the employment company's website or by calling and submitting their resume.
After the staffing firm reviews the resume, the candidate receives an interview with the recruiter to assess skills, experience, and job expectations.
They may also require you to take tests that assess your skills, expertise, and personality. If there is weakness in any particular area, the staffing firm may offer tutorials to strengthen those skill sets.
The agency then pairs you with a client that is currently seeking a person with your qualifications that best matches the career expectations and parameters you've outlined.
The next step is an interview with the potential employer that will hopefully yield a follow-up interview, final screening, or job offer.

How Long Does It Take to Get a Job Through a Staffing Agency?
After your resume is submitted, the turnaround time is often 24-48 hours for the recruiter to contact you for an interview. Following the staffing agency meeting and assessment, they will attempt to secure a client interview with a potential employer as soon as possible. If you're considering using a remote staffing agency to find a software engineering job, check out SalsaMobi's career options.